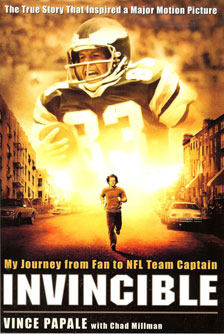 ION Books - Invincible - The Book that inspired The Movie | Limited Edition
Regular price $24.95 Sale
Vince Papale's first book: INVINCIBLE – My Journey From Fan to Team Captain is a critically acclaimed success. Co-written by ESPN the Magazine Editor Chad Millman (The Detonator & The Odds) Vince fills in the cracks and tells in great depth his incredible journey that was documented by the Disney box office hit INVINCIBLE.
Played by actor Mark Wahlberg, there is much more to his story that is depicted on the silver screen as Vince's success was tempered by a complicated family life, a past, that continued to haunt him, even as a hometown hero.
At its core INVINCIBLE, the movie and the book, is an underdog story that will inspire others to pursue their dreams too. In 1976 the fans of Philadelphia were looking for a motivating hero and now more than ever they need someone to look to use as a champion.
Mr. Invincible, as he has been called, has inspired tens of thousands with his passionate presentations in front of live audiences. His story is so much more than a football saga and as a cancer survivor he knows what it's like to overcome the utmost of challenges on the gridiron of life.